Empanadas De Carne (Meat Empanadas)
Jostlori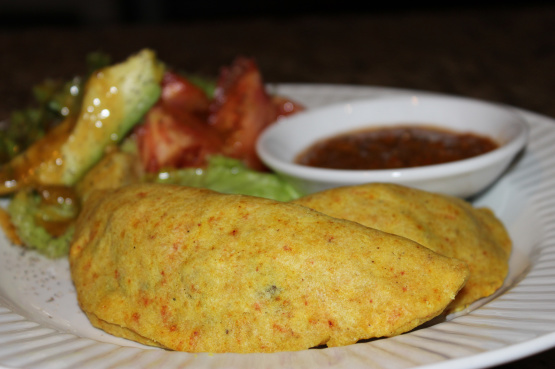 Lovely flaky pastry that is flavoured with curry, surrounding moist beef! Can't get any better than that! My friends and family BEG me to make these all the time!

These were good, but the flavor needs a bit of a punch. Next time, will try going a bit heavier on the spices in the meat. I didn't add the breadcrumbs, as it seemed like it might be a bit too much based on other reviews. The pastry was unlike any I've had in empanadas before, but was flaky and very good. Instead of rolling the dough, I used a tortilla press, which makes perfectly round circles in no time at all. With a bit of tweaking for our taste, this is a recipe we'll try again. Thanks for posting! Made for Spring PAC 2013.
To make the pastry: In a large bowl, stir the flour, baking powder, curry, salt and turmeric. Cut in the butter and shortening until the mix resembles fine crumbs. Pour water in and make a soft dough. Gather the dough into a ball and wrap in wax paper. Chill for 1 hour.
To make the filling: In a small bowl, mix the water with the breadcrumbs and let it sit while you prepare everything else. In a large pan, heat the oil over medium heat. Cook the onions and garlic until soft. Place in a small bowl and set aside. Increase the heat to high. In the same pan, cook the beef until it is no longer pink. Drain the fat and stir in the onion mix, curry, salt, thyme, black and cayenne peppers. Cook over medium heat for 3 minutes.
Assembly: Divide pastry in half and roll 2 long sausage shapes. Slice each roll crosswise into roughly 12 equal pieces. Roll each piece out into a 6" circle. Spoon some filling into the circle. Wet the edges of the circle with a little water and fold in half, making sure the edges meet. Trim into a neat half moon shape and imprint the edges with fork prongs.
Bake in a preheated 350 degree oven for 28 minutes or until the pastry is lightly brown.