jrusk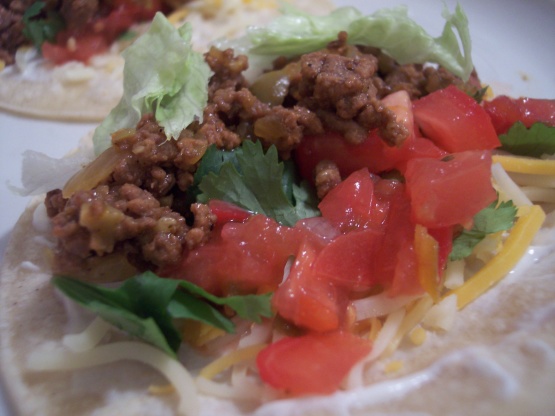 Empanadas are one of my favorite things to eat but I lack the patience. Every country has their own version and the ingredients differ. I love Colombian empanads/food since I've lived there but I rather go out and eat it! This website is the real deal http://nikas-culinaria.com/colombian-food/ and I'll try it one day but for now...This recipe is the "easy way" to make empanada filling and it has the ingredients we prefer. The man of the house must have tacos so I've started using this filling and it make us both happy. I wrap my taco in lettuce. The meat is very very addictive...once you start eating it you might just finish it with a spoon. I never have any leftovers no matter how much I make!!!! Try the pique sauce with it too!
In large heated skillet add olive oil and onions. Cook until onions are translucent.
Remove onion from skillet and set aside.
Add meat to same skillet and brown until done.
Add onions back to skillet with meat.
Add remaining ingredients to meat mixture. Stir well and cooks through for about 10 minutes to ensure that all the ingredients blend.
Serve and enjoy.
*Sofrito is a cooking base made of vegetables and spices. Recipes for it are on Zaar.