Emmentaler and Asparagus Frittata
Boomette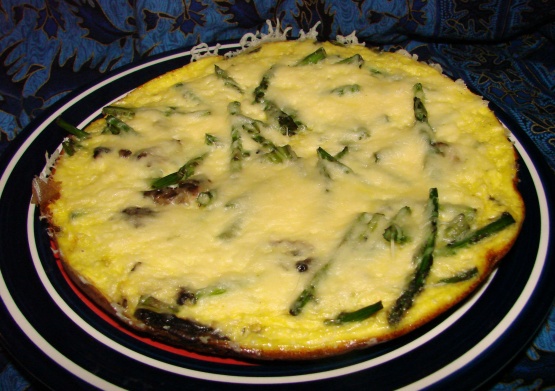 Found on a recipe card in the deli section next to the imported cheeses.
I used 12 ounces of asparagus (one package). They were small, they were perfect for that. I used skim milk. No salt. Instead of emmenthaler, I used reduced-fat swiss cheese. I used only 1/2 tbs of unsalted butter. No onions because of DH. It was really easy to do. IT was perfect. Thanks Julie. It's so tasty and for me healthy. Made for Beverage tag.
Preheat broiler.
Beat eggs, milk, salt and pepper in a medium-size bowl until blended.
Stir in 1/2 cup cheese. Set aside.
Melt butter in a 10-inch nonstick skillet with ovenproof handle over medium heat. Add mushrooms, shallots and asparagus. Cook and stir 3 minutes until vegetables are crisp, yet tender.
Reduce heat to medium and pour egg mixture over vegetables. Cover and cook 10 minutes, or until bottom of frittata is set, carefully lifting edge with spatula and tilting skillet as necessary to allow uncooked portion to flow underneath.
Place skillet under broiler. Broil 2 minutes or until top is set but not brown.
Top with remaining 1/2 cup cheese. Let stand until cheese has melted.
Cut into 6 wedges.