Emeril's Stuffed Bell Peppers or Sweet Banana Peppers
CarolAT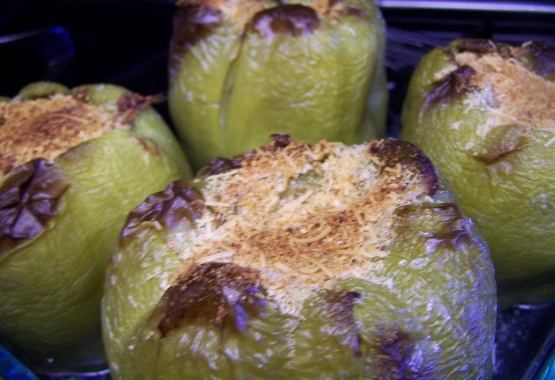 Comes from food network. My daughter and I made these all summer long while our gardens were overflowing with bell peppers and sweet bannana peppers. Recipe lists, either bell peppers or sweet banana peppers, not both, example; 4 med. bell peppers or 8 large banana peppers. They freeze well too. If you don't want to bother with Emeril's Essence, you can substitute a seasoned salt of choice (that's what we do.) Make sure to add the water when you cook the peppers this keeps them from drying out, also.... others have suggested adding some butter and more cheese on top of the peppers.

DH and I really liked this recipe. This recipe reminded me of stuffed bell peppers my mother use to make. So in her honor, I cut the top of the peppers off and seeded them and stuffed the peppers whole instead of halving them. I let them bake a little longer to get a nice brown edge and really soft peppers. I liked the flavor of the parmesan cheese on top, but next time I will add a bit of butter to the bread crumbs and cheese so they are not as dry. Thanks for posting this recipe. Made for ZWT5.
Preheat oven to 400 degrees.
In a large skillet, brown sausage about 3 min., add onions, chopped peppers and celery; season with salt and pepper.
Saute for 4-5 minutes , add rice, mix well, season with salt & pepper & cook 3 minutes.
Remove from heat, stir in green onions & parsley.
Season the insides of bell peppers with salt , spoon meat mixture into bell peppers.
In a mixing bowl combine bread crumbs,parmesan & Recipe #5031 or seasoned salt and sprindkle over each pepper.
Cook peppers in a shallow pan with just enough water to cover the bottom of pan and bake 30 minutes.