Emeril's Spinach, Orange and Candied Almond Salad
Kay D.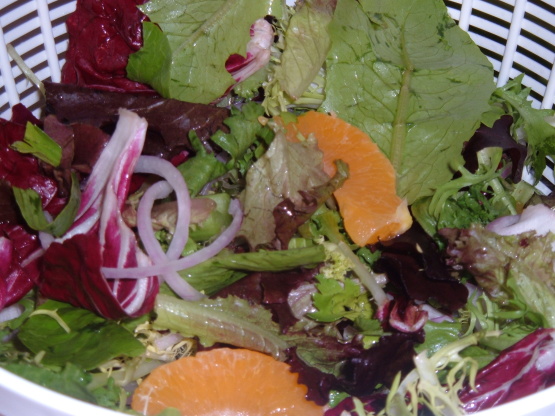 My husband and I caught the Emeril Live cooking show on Food Network over at Mom's last night and I wanted to find this recipe before it was lost forever. I haven't tested it yet, but I KNOW it's good! This salad adds a splash of color to your dining table!
Sorry to give this a lower review, but I was really looking forward to this, but pretty disappointed. I made the dressing exactly as stated and thought it was really thin and went all over the plate. I didn't mix the dressing with the salad b/c it's just the two of us, so the leftovers wouldn't be good. Husband didn't care for it too much (and he likes some salads). I even waited to try again tonight, but still wasn't impressed. Loved the almonds though! Thanks for posting; it was fun to try and it is really pretty. But next time I think I'll stick to my strawberry spinach salad!
Lightly grease a 10" square of parchment paper with butter or vegetable oil and set aside.
Use a salad spinner to rinse the baby spinach thoroughy. Remove as much moisture as possible from the spinach or your salad will be soggy. Set aside to drain.
SIMPLE SYRUP: In a small saucepan combine 3 tablespoons of sugar and 1 tablespoon of water over medium-high heat. Swirl the mixture occasionally until the sugar turns a golden amber color*. This should take about 3-4 minutes.
Add the almonds and stir to coat. Continue cooking until the almonds are fragrant and golden brown, about 1 minute. *Be careful not to burn the sugar/nut mixture or yourself! Transfer nuts to parchment paper, using a spatula to spread into a thin layer, and set aside to cool completely.
With a sharp knife, peel the orange, remove the bitter white pith and cut the fruit into segments. (Use a small bowl to catch the orange juice that drips.) Reserve the segments in a separate bowl. Reserve the orange juice.
SALAD DRESSING: Combine 1/4 cup of the reserved fresh orange juice, remaining 3 tablespoons sugar, the Champagne or white vinegar, olive oil, fresh orange zest, 1/4 teaspoon salt, and the cayenne in a mixing bowl and whisk to blend. Transfer the dressing to a non-reactive container with a lid and refrigerate until ready to eat.
Put the fresh spinach in a large serving bowl, then top with the orange segments, celery, and red onions. Cover with plastic wrap and refrigerate until ready to serve.
When ready to serve, break the caramelized almonds (at this point the almonds have turned to "brittle") into bite-size pieces and scatter over the top of the salad. Drizzle the dressing over the salad and season with salt and black pepper, to taste. Toss to coat evenly and serve immediately.