Emeril's Spinach, Dried Cherry and Goat Cheese Salad With Warm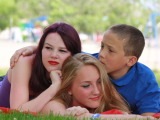 This came from Emeril. He aired this recipe in 2004. I am excited to serve it at Thanksgiving 2007. It is quick, flavorful, and beautiful.
Directions
n a large skillet, cook the bacon over medium-high heat until crisp, about 5 minutes. Drain on paper towels and pour off all but 1/4 cup of grease from the pan.
To the fat in the pan, add the onions and cook, stirring, over medium-high heat until soft, about 3 minutes. Add the garlic, pepper, and salt and cook, stirring, for 30 seconds. Add the mustard and vinegar and cook, stirring to de-glaze the pan. Add the sugar and stir to dissolve. Add the cherries and cook, stirring, until slightly plumped and warmed through, about 1 minute. Remove from the heat and whisk in the oil. Return the bacon to the pan and adjust the seasoning, to taste.
In a large bowl, toss the spinach with the warm dressing. Divide the salad among 4 salad plates, arrange the orange segments around the edges, crumble the goat cheese over the top and serve.
Most Helpful
This gets raves every time I make it! I use feta instead of goat cheese and dijon instead of creole mustard, but otherwise make it exactly as shown. You can keep leftover dressing and microwave it on low to warm it back up! Awesome!
Yep, this salad is perfect and would be great with any meal. It accompanied our beef tenderloin Christmas dinner beautifully ! I made the bacon & dressing earlier in the day, then warmed it up and added the dried cherries & bacon right before serving. The combination of flavors is incredible! I used a brown grainy mustard, 3 blood oranges and it was as pretty and it was delicious. Thanks for posting. It got rave reviews all around the table.

Very festive! Perfect.