Emeril's Smoked Gouda Macaroni
Prep 10 mins
Cook 45 mins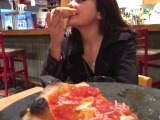 Finally found my favorite, most ultimate comfort food! This is published in Emeril's Everyday's A Party Cookbook. It's my favorite of all his books because my old house is in it. Our old house, which was under 8' of water for 3 weeks after Katrina, was such a great place to entertain...ahhh, the memories. Anyway, Emeril calls for 1/4 lb of grated smoked gouda but we liked half cheddar, half gouda so it isn't too smoky. Serve with some fried catfish fresh from the pond and a tall iced tea with mint.
Directions
Preheat the oven to 375 degrees.
Put the water, 1/2 tsp salt, and the oil in a large heavy saucepan over high heat and bring to a boil.
Add the macaroni and cook, stirring occsionally, until tender, about 8 minutes.
Drain and rinse under cool water.
Set aside.
In a small, heavy saucepan, melt 2 tbs of the butter over medium heat.
Add the flour and cook, stirring constantly, for 2 minutes.
Slowly add the milk, whisking constantly.
Add the remaining 1/2 tsp salt and the pepper and continue whisking until the sauce is smooth and thick enough to coat the back of a wooden spoon, about 8 minutes.
Remove the white sauce from the heat and stir in the cheese.
Continue stirring until the cheese melts.
Lightly grease a 6.5x10" casserole dish with the remeining 1/2 tsp butter.
Combine the cheese sauce and macaroni in a large mixing bowl and mix well.
Pour into the prepared casserole and bake until lightly golden on top, about 20 minutes.
Remove from the oven and serve hot.
Most Helpful
I really enjoyed the texture of this macaroni and cheese. While cooking I was a little concerned that a previous review considered it a little bland so I added a quarter of a tablespoon of garlic powder, a quarter of a tablespoon of onion powder and a quarter of a teaspoon of cayenne pepper. I served this for an event and everyone really enjoyed it.
Very good! I cut it back to two servings so prepared it in two ramekins with 2 oz pasta per person. We LOVE smoked cheese, and this was absolutely fabulous for capturing the wonderful smoked flavor. I would definitely not use any other cheese in this. Thanks for sharing!

Good, very mild macaroni, best as a side dish to something spicy. My MIL appreciated that this used the minimum of cheese to make macaroni, but would have preferred it moister and cheesier, the smoked gouda was too bland for her taste. If using gouda, I recommend aged gouda for a more pronounced taste. Made as written. Thanks for posting, Trinkets. Made for January 2009 Veg*n Swap.