Chele D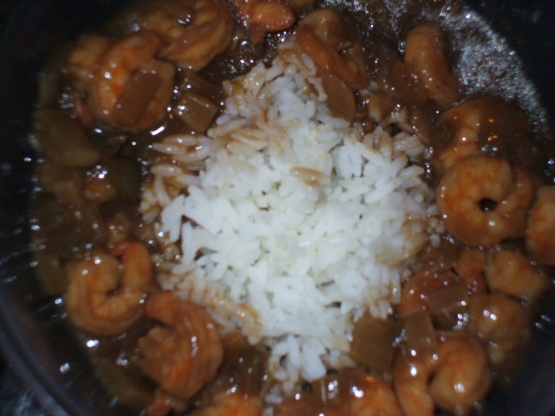 Posted from "Every Day's a Party" by Emeril Lagasse; posted for ZWT 5. From the intro to the recipe - "Shrimp stew is practically a staple dish in the area of Louisiana known as Acadiana, in the southern part of the state. Old time cooks garnished the dish with chopped hard-boil eggs. If you can, purchase shrimp with the heads and tails intact so that you can use them to make a stock. (In a pinch, you can substitute 1 quart of chicken broth.)"
Best shrimp stew I've ever ate. I tweaked the roux, used less oil.
Peel the shrimp and reserve the shells and heads.
Refrigerate the shrimp and put the shells and heads in a large saucepan. Add the water, quartered onion, bay leaves, and 1 tablespoon of the salt. Bring to a boil, then reduce the heat to medium and simmer, uncovered, for 30 minutes.
Remove from the heat and strain through a fine-mesh strainer.
Discard the peelings and set aside the shrimp stock.
Combine the oil and flour in a large cast-iron pot or enameled cast-iron Dutch oven over medium heat.
Stirring slowly and constantly, make a roux the color of peanut butter, 15 to 20 minutes.
Add the chopped onion, bell pepper, and celery and cook, stirring, until soft, 6 to 8 minutes. Add the shrimp stock and whisk to blend with the roux. Bring to a boil, then reduce the heat to medium-low and simmer, uncovered, for 1 1/2 hours.
Add the shrimp, the remaining 1/2 teaspoon salt, and the cayenne and cook for 20 minutes.
Remove from the heat and stir in the parsley.
Ladle into individual soup bowls, garnish with the chopped eggs, and serve hot.
Note: The stew can also be served over white rice.