Emeril's Shrimp Scampi Po-Boy on Garlic Bread
gailanng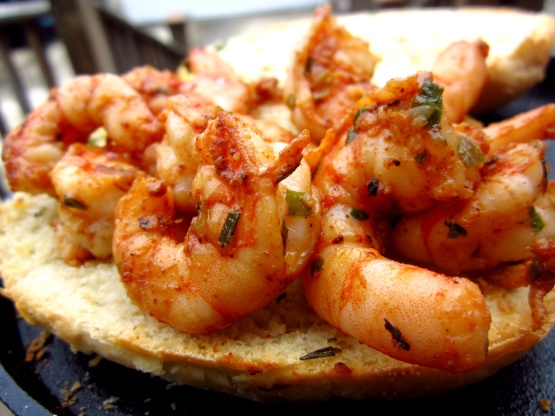 Very rich and messy and ohhhh sooo good!! Got this from either and Emeril site or food network. He's such a genious!! I never used the lemon zest and used regular onions in place of green onions.

D E L I C O U S ! The end :)
In bowl, lightly season shrimp with essence.
In large skillet or saute pan, melt butter and heat oil over med heat.
Add garlic, salt, pepper, and cayenne and cook, stirring, until garlic is soft and fragrant but not browned, about 2 minutes.
Add wine and bring to boil.
Cook, stirring occasionally, until wine is reduced by half.
Lower heat to med-high, add shrimp, lemon juice, worcestershire, and lemon zest and cook, till shrimp are pink.
Stir in parsley and basil, remove from heat.
Season to taste.
To serve, spoon shrimp and sauce into bottom half of prepared garlic bread. Sprinkle lightly with cheese and top with the remaining garlic bread.