Emeril's Shrimp and Pasta in a Spicy Tomato-Chili Cream Sauce
lazyme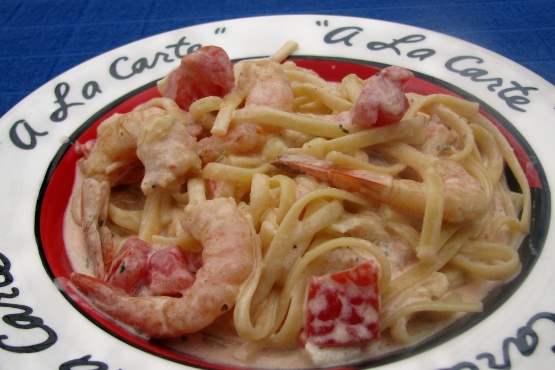 I got this recipe through a recipe exchange with a friend and it is very good! It does have quiet a few steps and ingredients but it is definitely worth it.

Top Review by KateL
OMG! Normally I do not cook or eat cream sauces, but I wanted to experience this. This was a quintessinal New Orleans dish, spicy and rich. In Weight Watchers' parlance, I would organize my entire week around this dish, it was that good! It was very spicy, even though the cream offset it somewhat, but I would expect that from an Emeril recipe, wouldn't you? I used Tony Chachere's Creole seasoning, so I would omit the stand-alone salt when I make this again. This is a very filling dish, so do not oversize portions when serving. Made for Summer Photo Tag.
Set a large 1-gallon stock pot of water to a boil and add the kosher salt. Place the linguine in the pot and stir the pot until the water returns to a boil. Cook the pasta until tender, but with a bit of resistance (al dente), about 12 minutes. Drain and reserve 1/2 cup pasta water.
While the pasta cooks, prepare the sauce. Set a 12-inch saute pan over medium-high heat. Add the butter and olive oil to the pan. Once the butter has melted, season the shrimp with 1 tablespoon of the creole seasoning and 1/4 teaspoon of the salt and add the shrimp to the pan. Sear the shrimp until well browned on both sides, about 2 minutes. Remove from the pan and set aside.
Add the onions and jalapenos to the pan and saute until the onions are softened and lightly caramelized, about 4 to 5 minutes. Add the garlic to the pan and saute until fragrant, about 30 seconds. Add the cream, remaining 1 tablespoon of creole seasoning, remaining 1 1/4 teaspoons of the salt and the pepper to the pan and bring to a boil. Cook the sauce until the cream is reduced by half, about 2 minutes.
Return the shrimp to the pan, and add the tomatoes, linguine and the reserved cooking water to the pan and cook, tossing to incorporate for 3 to 5 minutes. Remove pan from the heat and add the Pepper Jack, Parmesan and basil and toss to blend. Serve immediately.