Emeril's Sausage Macaroni and Cheese
Ms B.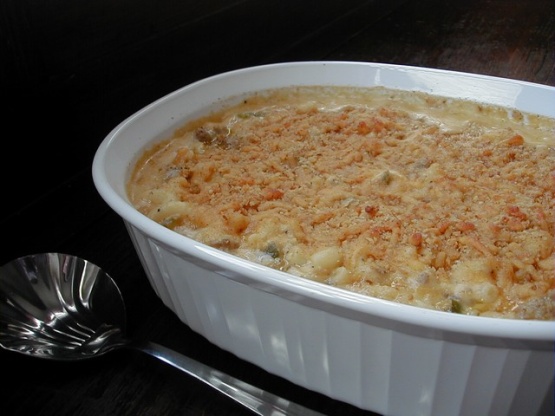 I adopted this recipe. It is very rich and creamy with the signature spicy kick of Emeril Lagasse. He is the King of Bam and Pork Fat. This mac and cheese has it all.

Wow, this is a good recipe, but you need only use 1/4 cup butter, not 9 tablespoons and 1/4 butter, it is way too much. I also do not use the 1 tablespoon of fat from the sausege, and I use low fat milk for the sauce, can't really tell the difference.
Preheat the oven to 350 degrees F.
Butter a large casserole dish with 1 tablespoon of the butter and set aside.
Bring a large pot of salted water to a boil.
Add the macaroni and cook until al dente, about 10 minutes.
Drain in a colander and rinse under cold running water.
Drain well.
In a large skillet over medium-high heat, cook the sausage, stirring, until browned and the fat is rendered.
Remove with a slotted spoon and drain on paper towels.
Pour off all but 1 tablespoon of fat from the pan.
Add the onions, bell peppers, and 1 teaspoon of the Essence, and cook, stirring, over medium-high heat until soft, about 3 minutes.
Add the garlic and anise seeds, and cook, stirring, for 1 minute.
Remove from the heat.
Melt the butter in a large, heavy saucepan over medium heat.
Add the flour, and stirring constantly with a wooden spoon, cook over medium heat until thick, 3 to 4 minutes, being careful not to let the flour brown.
Using a whisk, add the milk in a steady stream and cook, whisking constantly, until thick and smooth, 4 to 5 minutes.
Remove from the heat.
Add the salt, pepper, cayenne, and 2 cups of the cheese, and stir well.
Add the noodles, cooked sausage and vegetables, and stir well to combine.
Pour into the prepared baking dish.
In a mixing bowl, combine the remaining 1 cup of cheese with the breadcrumbs and remaining 2 teaspoons of Essence.
Sprinkle over the macaroni and bake until golden brown and bubbly, about 25 minutes.
Remove from the oven and let rest for 5 minutes before serving.