ImPat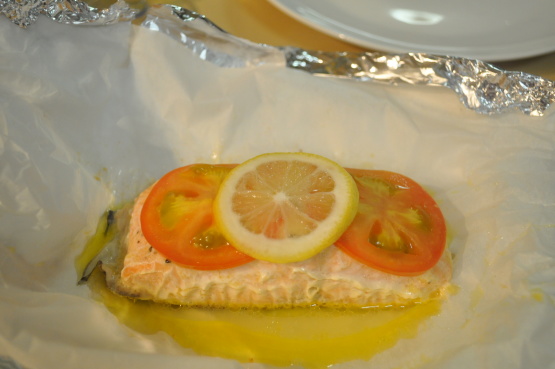 I got this from Emeril Lagasse's show. I do not know if this is his exact recipe, since I made it as I remembered from watching it, but it comes out fantastic every time.

Top Review by ImPat
This was delicious, just sorry I couldn't get to the fresh basil and had to use dried (it was teaming down rain and no chance of getting out to the herb garden in that). I cooked 3 portions in individual pouches at 175C (non fan forced oven) and they were cooked to perfection in 30 minutes and I was really surprised how much the lemon flavour came through from a single slice of lemon and I drizzled some of the juices from the pack over the fish to essentuate the flavours. Thank you mosma, made for I Recommend Tag Game and recommendee by LifeIsGood.
Rub fish with butter, basil and garlic.
Add hot sauce (3-4 drops per slice, depending on your taste).
Top each fish with 2 slices of tomato, 2 slices of lemon, a bay leaf, and salt and pepper to taste.
Wrap in silver foil to create a steam pouch. I put in 2 fillets per pouch.
Bake on 350 degrees for 30-35 minutes.