ksdahl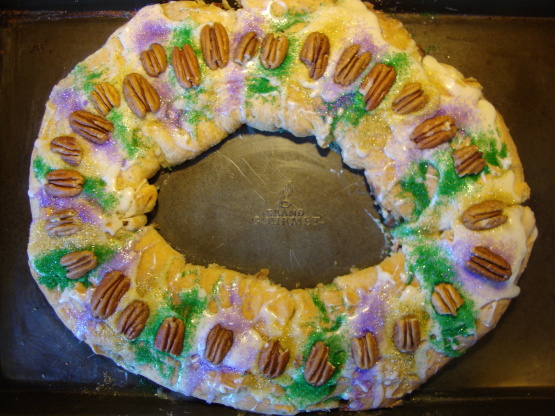 This is an easy quick way of making King Cake. This is good recipe. Try it and see what you think!!

I also used 2 cans of cresent rolls. Instead of pie filling, I used seedless strawberry jam. I rolled out the dough on a piece of waxed paper & then rolled it onto the pan, much easier to handle that way. The seams gave way slightly when baked but it still looked good & tasted great! Everyone wanted the recipe.
1

(12 ounce) can crescent rolls
1⁄4 teaspoon cinnamon
1⁄4 cup butter

1

(21 ounce) canfruit pie filling

1

(8 ounce) package cream cheese

1

cup powdered sugar
1⁄2 cup icing (see below)
3⁄4 cup sugar, divided into 3 parts
food coloring (gold, purple, green)
After opening the can of crescent rolls, unroll in one piece. With your fingers, press seams together to form one piece of dough.
Mix together butter and cinnamon, gently spread over the dough.
Mix together cream cheese and powdered sugar. Drop teaspoons over the top of the dough. Drop teaspoonfuls of pie filling (cherry, blueberry or peach) over the dough as you did the cream cheese.
Starting on the long end, carefully roll the dough, horizontally, with the filling and cream cheese inside. Insert plastic baby at any place within the dough.
Place on baking pan with the seam side down in a circle, pinching the ends together.
Bake at 350 for 15-20 minutes or until golden brown.
While the cake is baking, use the food coloring to dye the sugar.
When cake is cool, pour icing over the top of the cake. Sprinkle with the colored sugar, alternating the three colors as you go around the circle.
For icing: Combine 1 cup of powdered sugar, 1 tbsp lemon juice and 1 tbsp water until smooth.