katew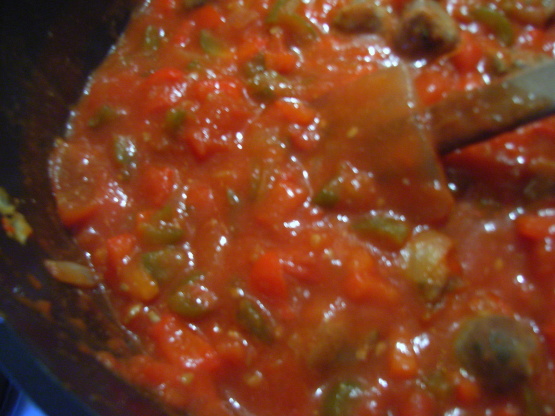 Emeril's Creole Sauce from the Emeril Live episode, Gone Fishin'. Cool the sauce without the shrimp and store in an air-tight container in the refrigerator for up to 4 days. Taken from Emeril's.com; posted for ZWT 5.

Great balance of flavors and easy to make. Don't let the ingredient list/directions scare you. Made with shrimp. Made for ZWT5.
Heat the bacon grease in a medium, heavy saucepan over medium heat. Add the flour and stirring constantly with a heavy wooden spoon, cook until a roux a light brown forms, about 6 minutes.
Add the onions, celery, and bell pepper and cook over medium heat, until the vegetables are tender, 5 to 6 minutes.
Add the garlic, salt, red pepper, and bay leaves, and cook, stirring, for 30 seconds.
Add the tomato paste and cook, stirring constantly, until it starts to color, about 2 minutes.
Add the tomatoes, oregano, basil, thyme, lemon zest, Worcestershire and Tabasco, and cook, stirring, for 2 minutes.
Add the stock and bring to a boil.
Reduce the heat to low and simmer, uncovered, until the sauce thickens and reduces by one-quarter in volume, 20 to 25 minutes, stirring occasionally.
To serve immediately, add the shrimp and cook, stirring, until cooked through and tender, about 5 minutes. Adjust the seasoning to taste. Arrange 1/2 to 3/4 cup long grain white rice in each of 4 to 6 large shallow bowls or on large plates.
Ladle the shrimp Creole over the rice, garnish with chopped parsley, and serve.