chia2160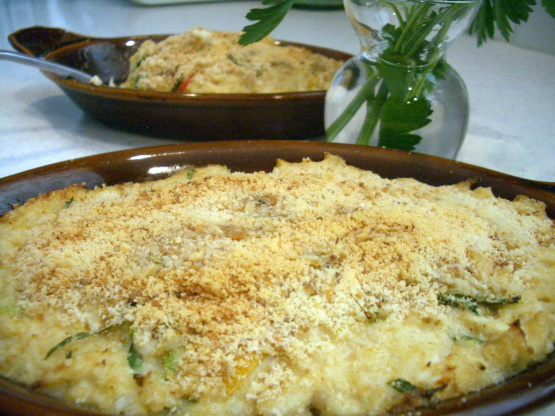 The title says it all! Updating 8/3/07-- I made this again and added 2 scallions, some yellow peppers and a tbsp of creole seasoning. It was a great addition to the original recipe.

I used this recipe to stuff some baby portabella mushrooms with and it worked really really well. Lots of compliments with this one and its super easy. I omited the caviar and didn't use any pea shoots. Will make again, and again. Thank you!
Preheat oven to 375ºF.
In a medium mixing bowl, mix together the mayonnaise, bell peppers, shallots, parsley, tarragon, salt and white pepper.
Gently fold the crabmeat into the mayonnaise mixture, being careful not to break up the lumps, then carefully fold in the caviar until just mixed.
Divide the crabmeat among 4 shallow ramekins.
Sprinkle 1 tablespoon each breadcrumbs and cheese on top of each and bake until warmed through and browned on top, about 12-15 minutes.
Sauté the pea shoots in oil for 1-2 minutes,season with salt, remove. Serve alongside the crab.