Emeril's Chocolate Malted Shake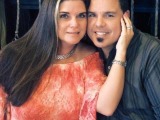 From Emeril Live on The Food Network. Yum!
1 pint premium chocolate ice cream
1⁄4 cup whole milk
2 tablespoons chocolate instant malted milk powder
2 tablespoons chocolate syrup
3⁄4 cup crumbled chocolate sandwich style cookies or 3⁄4 cup chocolate chip cookie
Directions
Place the ice cream, milk, malt, and syrup in a blender and process on low speed for 30 seconds.
Add the cookies and process for 20 seconds.
Pour into 2 tall glasses and serve each with a straw and long-handled spoon.
Most Helpful
We loved these malted milkshakes.
I substituted lactose free ice cream and coconut milk because of lactose intolerance.
This treat brought back fond memories of chocolate malted shakes from our teen years.
This is great. My granddaughter just had her tonsils out and she loved this. In fact, she made me print it out so that her mom could make it for her too. 10 stars from the eight year old! Thanks Juenessa.