Emeril's Caribbean Cocktail

Taken from Emeril's.com; posted for ZWT 5.
Directions
In a cocktail shaker, blend together all the ingredients, except the garnish. Pour into a tall glass filled with ice.
Garnish with pineapple and serve.
Most Helpful
Ignorance may be bliss, but drunken ignorance is utopia.

OMG - this was just what the doctor ordered! I made this exactly as posted, filled a tall glass to the brim with ice, and enjoyed total decompression! What a lovely blue hue - will definitely put you in la-la-land!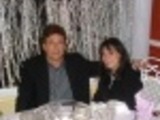 Instead of simple syrup and fresh lime juice, I used sweet and sour mix. This is great. Thanks Alligirl :) Made for the Saucy Senoritas of ZWT5