Emeril's Caramel Drizzle Sauce
pharmd14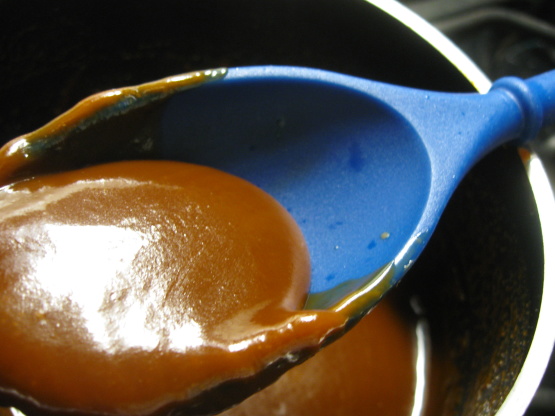 Taken from Emeril's Creole Christmas Cookbook --- I have made it in the past with great results it's a great sauce to use on pies, bread puddings and cake slices --- can use half white and brown sugar.

Sorry for the low rating and it may be all my fault but my sugar turned into a very crusty white solid mess and it wasn't salvagable. When it says "cook", does that mean over low heat, medium heat, medium low? I did try adding the whipping cream in hopes that maybe it would all melt again but it didn't and there were burnt pieces floating up to the top. The recipe calls for it to "cook" for 10 to 15 minutes and mine was ruined at 10 minutes - not sure what went wrong but if it was my fault, please correct me and let me know how I can fix this. I have a caramel drizzle recipe (uses brown sugar)that I already use but was looking for something a little lighter and I thought this might have been it.
In a small heavy-bottomed saucepan combine sugar and water; bring the mixture to a boil, stirring often.
Cook stirring occasionally until the mixture is a deep caramel color and has the consistency of a thin syrup (about 10-15 minutes) remove from heat and stir in the whipping cream; return saucepan to high heat and boil the sauce until it regains the consistency of a thick syrup (about 2 minutes); cool.
The sauce can be refrigerated until ready to use (allow it to reach room temperature before drizzling).