Emeril's Artichoke and Spinach Dip
Geema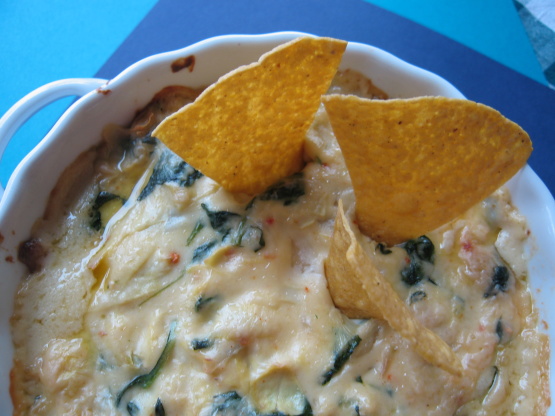 Made with fresh, not frozen spinach. A winner!

Top Review by Geema
This is a genuine, made from scratch, wholesome, very delicious dip. I got a bit confused when my oil and flour never really resembled a "roux", but stayed in very liquid form. I just forged on with the rest of the directions and the sauce came together perfectly, thickening nicely. I finished making the dip, without baking it, and refrigerated it until about an hour before serving, baking it for about 45-50 minutes, until bubbly around the edges. I brought it to my daughter's house where it was accepted with lots of praise for a delicious dip. I'll keep this in my favorite appetizer book.
Preheat oven to 400 degrees.
Combine 1/4 cup of vegetable oil and flour in a saucepan over medium heatl. Stir the mixture constantly for 5-6 minutes to make a blond roux. Whisk in the milk and bring the liquid up to a boil. Season the liquid with salt and cayenne pepper. Simmer the liquid for 5-6 minutes, or until the liquid is thick and coats the back of a spoon. Remove the sauce from the heat and stir in the cheeses. Set the sauce aside.
In a saute pan, heat the remaining vegetable oil. When the oil is hot, add the onions and saute for 2 minutes. Stir in handfuls of spinach at a time, until all spinach is incorporated. Add the garlic and artichokes and saute for 2 minutes. Season the vegetables with salt and cayenne pepper. Remove the vegetables from the heat and turn into a mixing bowl. Fold the reserved cheese sauce into the vegetables. Turn the mixture into a baking dish. Bake the dip for 10-15 minutes, or until the top is golden brown.
Serve hot with tortilla chips.