Fresh, Healthy and DELICIOUS! The lemon with the feta is unbelievable. I eat this over Salad, with tortilla chips, or just plain! Eye the amount of olive oil if you want a drier salad This recipe was featured on the Packing a Punch Episode of Emeril Green.
Directions
In a large bowl, combine chickpeas, roasted red peppers, red onion, parsley, olives, garlic, oregano, salt, crushed red pepper, lemon juice & zest, and olive oil.
Then add feta and stir gently to combine.
Allow chickpea to marinate for at least 1 hour or refrigerate up to overnight, stirring occasionally.
Serve with bed of lettuce and tomatoes, spoon mixture over leaves.
Most Helpful
This was incredibly tasty and easy! I did not serve this over lettuce, but packed it for lunch. It is a great take-along salad because it doesn't get soggy, etc. I used a garlic and herb-flavored feta but, other than that, made this exactly as posted. Thanks for sharing this keeper!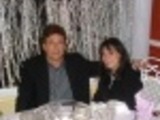 We really liked this recipe. It was easy and had alot of flavor. As recommended I omitted the salt. I only added 1/2 cup of Feta and a little less Olive Oil. Thanks for a great recipe.

This is an easy recipe to make with great results. I did omit the salt and olive oil, and reduced the oregano and lemon zest. Thanks for the recipe.