Emeril Lagasse's Perfect Pizza Dough
Pixie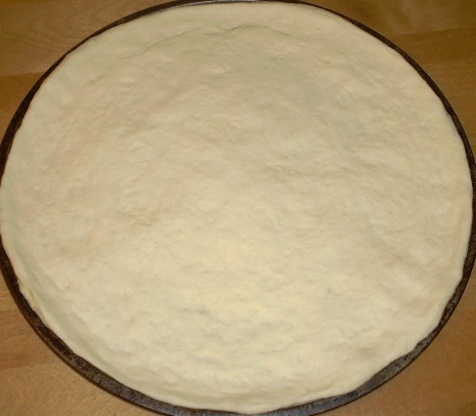 This is my new favourite recipe for pizza dough; it's so easy and works so well. I was watching a recent episode ("Pizza Party") of his show and went to the web as soon as it was over to get the recipe. Here it is, but the instructions are different than what you'll find on the web as I use my heavy-duty mixer rather than make this by hand. Enjoy!

Fantastic pizza dough recipe. Thank you Lennie for putting the heavy duty mixer directions in, as I am a newbie at using one and it truly helped. The pizza crust was hailed as being perfect from my most difficult eaters.
In the bowl of your heavy-duty mixer (like a Kenwood or KitchenAid), stir together the water, yeast and sugar; let sit until the mixture is foamy, which takes about 5 minutes.
Add 1 1/2 cups of the flour, the oil and salt into the yeast mixture and, using the paddle attachment (also known as the K beater), combine until mixture is smooth.
Switch to the dough hook.
With the machine running at low, add remaining flour, 1/4 cup at a time; make sure each addition of flour is incorporated before adding the next.
Once all the flour has been added, turn up the speed and let the machine knead the dough for about 3 minutes; it should be very smooth and perhaps a bit tacky.
Feel free to add an extra minute or two of kneading if you wish; it won't hurt the dough at all.
Rub the insides of a large mixing bowl with a little olive oil; remove dough from machine, form into a ball, and place into oiled bowl, turning dough over to make sure all sides are oiled.
Cover bowl with plastic wrap and place in a warm, draft-free area to rise; the dough should nearly double in size, which will take about 60 to 90 minutes.
An old habit of mine is to place a towel around the bowl, just to make sure no drafts get to the dough.
When dough is ready, lightly punch it down and knead it a bit, still right in the bowl.
Lightly flour your work surface and place dough ball on it; let it rest for 10 minutes.
This makes one large pizza; if you prefer two smaller pizzas, cut dough in half, then form into two balls and let rest, as above.
After dough has rested, form into a 16-inch round (or two 8-inch rounds) and you're ready to make pizza, using your favourite toppings.
The biggest trick here, when stretching out the dough, is not to get frustrated; if you find you're stretching the pizza and it's resisting and is too elastic, bouncing right back from each stretch, just walk away for a few minutes; after you let the pizza rest again, you'll find the dough will let you stretch it out.
You might even want to try flipping it into the air a bit!
Warning: let it come down on your knuckles, not your fingertips, or you'll tear the dough!
The best way to bake your prepared pizza is on a baking stone (or you can use a pizza pan, if you don't have a stone) on your lowest oven rack; Emeril suggests 8 to 10 minutes at 475F, but a little lower temperature for a little longer works just fine too.