Emaw's Cornbread Dressing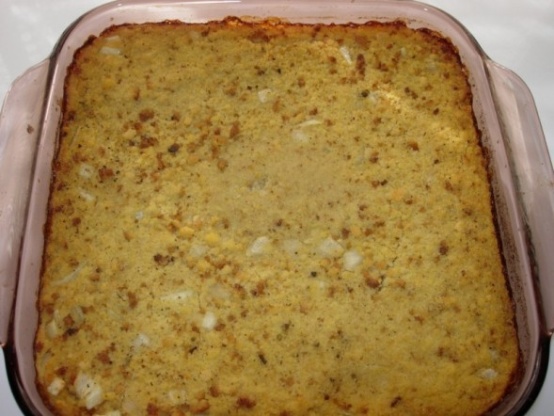 This is my mother's dressing recipe, finally captured on paper, lol. We use her cornbread recipe to make this as the pre-made mixes are very sweet and affect the taste of the dressing in a really not so good way.
My mom used to make this when I was a child! She never wrote it down but as a teen I helped her in the kitchen and remember these ingredients being used. This is the closest to what I remember her recipe tasting like. Thanks for posting, this is definetly a keeper for us and it brings back Holiday memories!
Directions
Preheat oven to 350 degrees.
Mix all the ingredients except stock.
Pour hot stock over everything and mix well.
Pour into a large casserole or roasting pan.
I use a 12 x 14 x 6 pan.
Bake for at least one hour, depending on the size pan you use, you may have to bake an additional half hour.