riffraff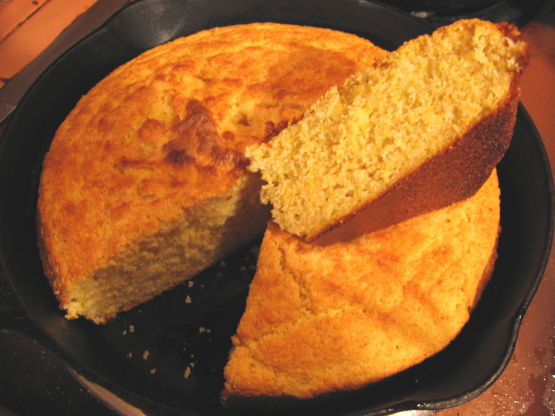 This is my mother's cornbread recipe. She uses a cast iron skillet which produces a beautiful crust. This is not sweet cakelike cornbread but authentic Southern cornbread that we eat with a big pot of beans or peas and she uses it for her Cornbread Dressing which is also posted on this site.

Fabulous recipe!! I had no problems whats so ever.I did had about 1/4cup of sugar to the mixture. We like it alittle sweet. My cornbread was just perfect and DH was very happy. I used bacon grease in the bottom of my cast iron skillet and it made for one mighty fine cornbread. Thanks so much for sharing Emaw's recipe!!
Heat 8 inch cast iron skillet in 400 degree oven with oil or drippings in it.
Mix all ingredients in a medium bowl.
When skillet is good and hot remove from oven and pour in cornbread.
It should sizzle good.
Cook at 400 for 45 minutes to an hour.
Turn out on rack to cool.
Bottom should have a lovely crust.