Katrina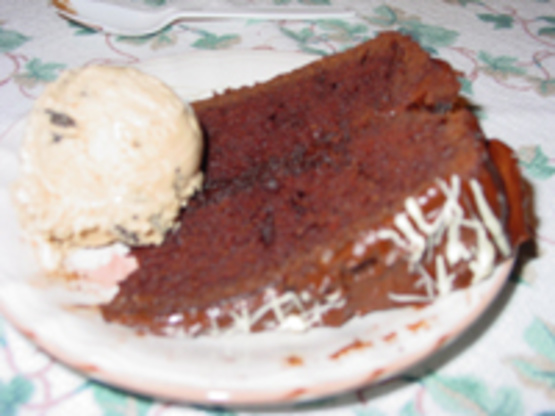 This cake is a deep dark brown. It is so easy and comes out perfect everytime. When I moved to Israel, I gave Elyse cake decorating lessons and she shared this recipe with me. It is the only chocolate cake recipe I use. It is so easy, my husband (who can barely microwave a hot dog) made this for me and it turned out great. This is the perfect base if you are going to ice/decorate it. Just put it in the freezer overnight first and the icing spread beautifully. Just as easy as Duncan Hines and much cheaper too.

This is a MARVELLOUS TASTY cake! I made this today for our April Fools party and it was gone in seconds! Luckily, me, the baker, got a few crumbs to munch on, lol;) This is a really really tasty cake. I did use a little milk when preparing the coffee, that's the only addition I made. Also, your right about the icing---spreads beautifully and looks awesome on top! Thanks a hundred and one times for the recipe!!
Place all dry ingredients in the mixer.
Turn mixer on low and slowly add the wet ingredients 1 at a time.
Pour into 2 greased round pans or 2 square pans.
Bake 350 for 45minutes-1 hour.
Freezes well.
Hint: line the pans with baking paper for easy clean up.