Elswet's Uber - Tangy Chicken Pepperoni
Shawn C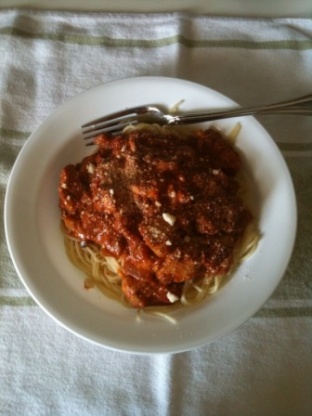 This is quite spicy and takes a bit of a fuss to make, but it is way more than worth it. If you are serving children, I recommend leaving out the Tabasco and all the peppers, save for the black pepper as it may be way too hot for them. If you love Italian food, I highly suggest giving this a try. It is most excellent and great with any type of pasta. Works well with home baked Italian bread and a nice garden salad with lettuce and spinach.
This pasta was really good! At first I wasn't really sure, but as I was eating, it was tasting better! I used whole wheat penne, made a half recipe (which made about 4 good size servings) and turkey pepperoni. For once, it actually took a little less for me to make than the stated time which is a plus. Will make this again; DH even had seconds. I do agree that the recipe would make a bit more sense if the ingredients were listed in order. I also did not think it was very spicy.
Prepare pasta by instructions on box using salted water; rinse, drain and set aside.
Over a medium heat, in a large skillet, saute celery, bell pepper, onion and mushroom in 1 tablespoon of the olive oil until onion is clear.
Add pepper flakes, oregano, basil, garlic, black pepper and salt.
Cook [stirring often] for another 5 minutes.
Add cayenne pepper, Tabasco® sauce, pepperoni and chicken; stir, cover and cook over medium heat until chicken pieces outsides are white.
While chicken cooks, in another medium skillet, heat remaining 2 tablespoons olive oil, add the remaining garlic and mix very well.
When oil is hot, SLOWLY stir in the flour, 1 tablespoon at a time mixing well until it is a thick paste.
Stop adding the flour and remove from heat.
Mix in 8 tablespoons of the tomatoes and blend very well, quickly, into a thick tomato paste.
Add remaining tomatoes, stirring during addition and mix until thoroughly blended.
Stir into cooked chicken mixture, add cream cheese and blend well.
Return to heat and cook an additional 8 minutes to ensure thorough heating of the tomatoes and melting of the cream cheese.
Either mix into cooked prepared pasta, or spoon over a bed of the pasta.
Top with grated parmesan and serve hot.