Elswet's Smothered Piggy Baked Chicken Breast
Pagan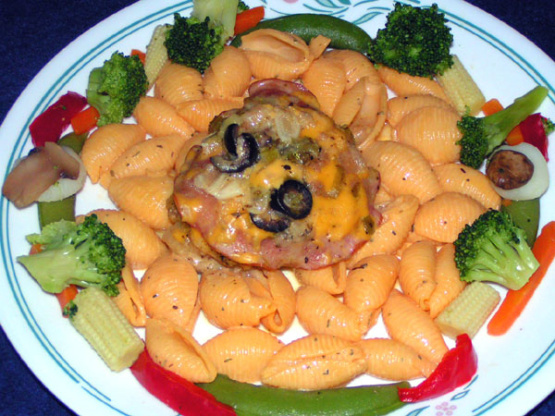 This is my favorite way to prepare chicken breasts. They go with darned near any side dish, and taste so darned good! Hope you enjoy it!

Terrific chicken dish! Wow, I really enjoyed this. It was dead simple to put together, and the taste was excellent. I used prosciutto for the ham, and about 1/4 c sake and 1/4 c sauvignon blanc for the wine. These are on the dryer side, so a teaspoon of sugar sweetened it up just a tiny bit. Wonderful over white rice with a green salad on the side. Thanks for posting this easy, tasty recipe.
Slice chicken breasts in half and roll in whole wheat flour. Lightly brown in butter substitute.
Place in a baking dish and cover with sliced ham and cheese. Set aside.
Saute onion and garlic until clear, add olives, herbs, and wine.
Bring to a boil and cook for approximately 8 minutes.
Add in 1 tablespoon of remaining flour [from breading the chicken] and stir until completely disolved. Add milk. Stir until thoroughly blended.
Ladle over chicken and bake at 375°F for approximately 20-25 minutes.