Elswet's Quick, Easy, & Delicious Diabetic Irish Shortbread
Pagan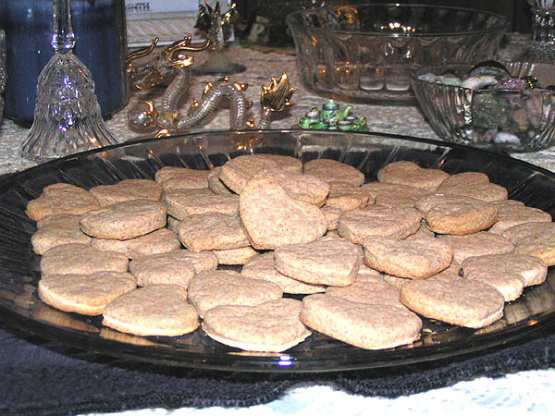 This is an old recipe from Elswet's mother. We have no idea where it came from, but the family name was McQueen. ;) This is the diabetic version. The alternate ["normal"] ingredients are listed as comments.
1

cup fat-free margarine, we use Promise it works beautifully, may use real butter if you have no dietary concerns
1⁄3 cup artificial sweetener, we use Altern by WalMart, may use 2/3 cup confectioner's sugar XXX if you have no dietary concerns p

2

tablespoons artificial sweetener

2

cups whole wheat flour, measure before sifting, may use 2 cups all purpose white flour if you have no dietary concerns
Cream together the sugar and butter, adding sugar in slowly. Sift in the flour slowly, mixing as you add.
Turn out onto a LIGHTLY floured board, and knead until thoroughly mixed, approximately 12-15 times.
Roll to 1/4 inch thickness, cut and place on parchment paper-covered baking sheet.
Bake for 15 minutes at 350°F Allow to cool on baking sheet, placed on baking rack.