Elswet's Diabetic Cinnamon Raisin Bread [ 4 Bread Machine ]
Pagan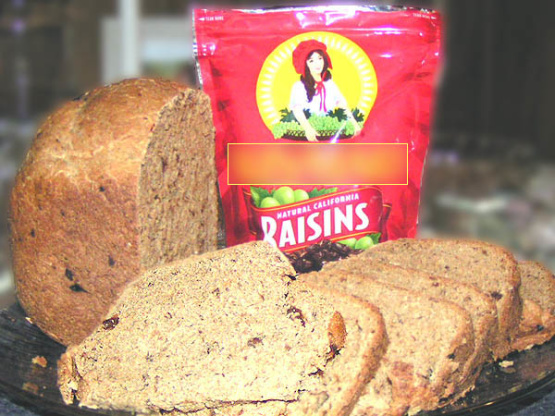 This is another of our breakfast favorites with reasonable sugar and low fat. It was adapted from Elswet's mother's Tried and True's. We use Altern [Walmart Brand] sweetener and plain [non-instant and non-quick] oatmeal. I'm so sorry people seem to be having bad experiences with this recipe. We use it all the time and love it. :] PLEASE NOTE: There is NOTHING wrong with this recipe! I make it all the time, and just made it again, using these directions. The recipe calls for 1 1/4 cups warm water PLUS 1 tablespoon warm water. Apparently, people are missing the 1 1/4 cups warm water, and only using 1 tablespoon, so DUH it won't work that way!

There was far too much liquid in this recipe. It was a heavy texture bread with an uneven salt distribution, the result of too much water. Also Altern is renowned for having a bitter aftertaste if the temperature is too high. In addition to all this there is too much yeast in the mix, it was over proven which was possibly the water/yeast combination. Apart from all that it was really quite nice, hmm yes very nice.
Place ingredients in bread machine pan in order given, but sprinkle the raisins around the ingredients against the wall, and make a deep indentation in the center of the flour and measure in the yeast.
Bake this on the basic cycle. It comes out beautifully on the medium crust setting. This recipe makes a 2 pound loaf.
For nutritional values to be right, slice loaf in half, lay halves down, and slice into 3/8" slices. You should get approximately13 slices per half. A serving is 1 slice.