Elswet's Deluxe Spanish Rice
Pagan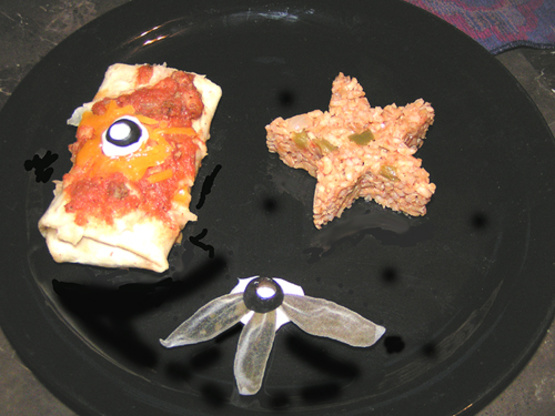 The base recipe for this came from the Wise Encyclopedia of Cookery [1970's version]. my Wife has adapted the recipe and, over the years, perfected it. This is rich without being heavy. It is creamy without being too liquid. It is spicy, but not uncomfortably so, and goes with just about anything you wish to serve it with. We have it most often with home made chimis or broiled steak. ;) Hope you love it as much as we do. We use brown rice, as the carbs are less, and my Lady is diabetic. Feel free to substitute white rice, as you wish. To make the chicken stock of boullion cubes, 6 chicken cubes to 6 cups hot water and stir until the cubes are completely melted.

I loved this recipe. I did replace the chicken broth with vegetable broth and the cream cheese with a non-dairy cream cheese. My whole family loved it and it made a lot! Very good!
2

tablespoons virgin olive oil

2

cups brown rice, uncooked

2

garlic cloves, mashed

1

large onion, any type, finely chopped
1⁄2 cup green onion, finely chopped
1⁄2 cup bell pepper, minced
1⁄2 cup celery, minced, stalks and leaves

1

cup tomatoes, finely chopped, fresh (2 medium tomatoes)

3

ounces tomato sauce

6

cups chicken broth or 6 cups chicken bouillon
1 1⁄2 teaspoons salt

1

teaspoon chili powder
1⁄2 teaspoon cumin
1⁄8 teaspoon cayenne pepper

2

ounces cream cheese

3

large black olives, thinly sliced
In a four-quart sauce pan, over a medium heat, heat the oil. Add in the brown rice and cook, stirring constantly until rice is lightly toasted. [This step requires constant attention.].
Add chopped onion, green onion, bell pepper, celery, garlic, salt, cayenne pepper, chili powder, and cumin. Stir until blended, and continue cooking until onions begin changing translucent.
Add tomatoes and chicken stock [or bullion water]. Return to boiling, reduce heat to low, cover, and cook for approximately 20 minutes.
Add the cream cheese. Stir well until the cream cheese is entirely melted and blended, recover, and cook for approximately 15 more minutes.
Allow to stand, removed from heat, for 5-8 minutes, fluff with a fork, garnish with cheese and black olives, and serve hot!
NOTE: This may be served as a side dish, or with sliced smoked sausage, shredded chicken or beef, shrimp, or other seafood and served as a main dish. Also, if you want it more spicy, you can add in the cumin and cayenne while you are toasting the rice. That will breatly enhance the heat level of these spices. Hope you enjoy it!