Elswet's Darned Near Sugar-Free Chocolate Berry Cheesecake
Pagan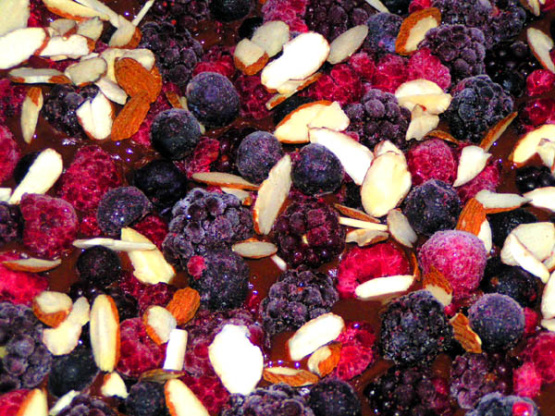 This is totally awesome! I'm not on a sugar restricted diet, and I eat this because it's just that darned good! NOTE: Also excellent with strawberries in place of the berry mix! NOTE AGAIN: Nutritional data will vary due to varied serving sizes. The 9 portions indicated are generous portions. ;)
Cheesecake: Put all ingredients into blender and blend on "mix" until all lumps are blended.
Pour into buttered 8 inch square pan [8x8x2] and bake at 325°F for one hour. Remove and allow to cool on rack.
It will firm in the refrigerator.
Filling: Put all ingredients into blender and blend until thoroughly blended and set. Spoon prepared filling over top of cheesecake. Chill while cheesecake is baking, approximately 45 minutes to an hour.
Topping: Place an even mix of berries over the surface of set pudding filling. Using flat hands, gently press berries into pudding just a little bit. Sprinkle with almond slices, and chill to set one final time. 30 minutes to an hour.
Cut into squares, remove to chilled plates, and serve.
Note: Cooking time indicates baking the cheesecake while simultaneously chilling the filling, and cooling the cheesecake then chilling to set.