Pagan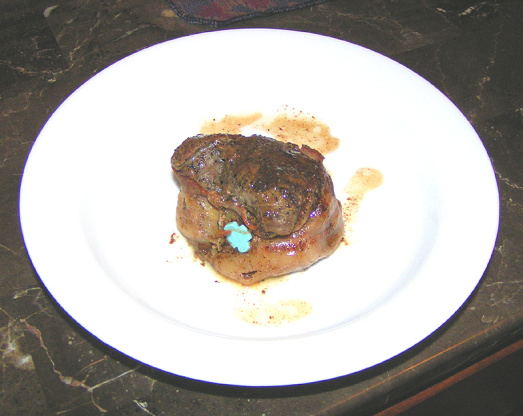 This recipe says 8-ounces of bacon-wrapped sirloin steaks. It indicates 2 of the 4-ounce steaks. We get these beautiful little 4-ounce bacon-wrapped sirloins with our meat order every month. Neither of us [my Wife and I] had any experience with these little delicacies, but in short time, my sweet Wife had the perfect recipe. At least, WE like it. LOL We hope you do, too.
Preheat oven to 350°F.
Line a loaf [bread] pan with aluminum foil. Grease the bottom with the full 1 teaspoon of olive oil, and place your bacon-wrapped sirloin steaks into the pan. Space them well from one another and from the sides, deposit a crushed garlic clove atop each steak, and arrange onion quarters in the corners of the pan.
Pour the liquid ingredients equally over both steaks, then sprinkle the dry ingredients evenly.
Cover the pan with aluminum foil and marinade overnight (tastes fantastic even when you don't have time for this step).
Bake for 45 minutes on 350°F, after which, baste, turn onion quarters, recover, and bake for a additional 45 minutes (a total of 90 minutes baking time).
Remove to serving plate, garnish, and serve. Enjoy!