Elswet's Baked Potato Soup [ Diabetic Version ]
Pagan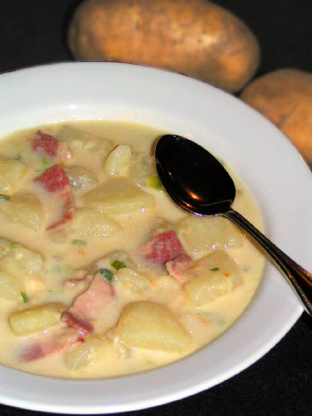 This is one of those Old World family favorites my dear Wife's family handed down. We hope you enjoy it. The alternate ingredients are for those without dietary concerns. Also, if the potatoes are soaked free of the starch, the carbs will be greatly reduced from the Nutritional Facts' Information.

For the most part this recipe was made as directed, although I cut the recipe in half, didn't peel the potatoes, & cubed them small! Used the fat-free items, the whole wheat flour, skim milk & potato flakes & had A GREAT, TASTY SOUP! Thanks for sharing! [Tagged, made & reviewed in the Diabetes Awareness Month Tag Game]
6

slices fat-free turkey bacon, may use 10 slices bacon
2⁄3 cup fat free butter substitute, may use 2/3 cup margarine
2⁄3 cup whole wheat flour, may use 2/3 cup white flour

7

cups skim milk, may use 7 cups milk

4

large potatoes, soaked the night before, drained and rinsed, boiled, peeled and cubed

3

green onions, minced
1 1⁄2 cups sharp cheddar cheese, shredded

2

teaspoons salt

1

teaspoon white pepper, finely ground

1

cup fat free sour cream
1⁄2 teaspoon rubbed sage
1⁄2 cup instant potato flakes, may be omitted for a smoother soup texture, alternately, you may add more for a thicker soup
In a large pot, brown your bacon, drain the grease, crumble, and set aside.
Over medium heat, melt the margarine substitute and add in the flour, whisking thoroughly.
Slowly stir in milk and stir constantly until sauce thickens.
Add in potatoes and onions, stir to mix well. Bring to a boil, stirring often to avoid scorching of the milk.
Reduce heat, cover, and simmer 15 minutes. Mix in your crumbled bacon, cheese, sour cream, instant potato flakes, and salt and pepper.
Cook until cheese melts, stirring often.
Serve hot, topped with fresh unmelted shredded cheese, and a small sprinkling of chopped green onions.