"elmer's" Summertime Sweet Onion Salsa
lazyme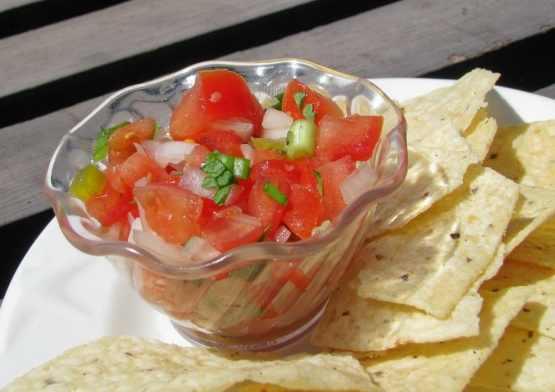 Picked up this recipe at a local "Elmer's" restaurant. It sounds so good and easy to prepare. They were giving out the recipe free so I guess it's OK to post here. I haven't tried it yet, but the card said: It takes only minutes to produce the best-tasting summer salsa ready for dipping, topping, and summertime fun. Cooking time includes standing time.
4

large plum tomatoes, cored, seeded and cut into 1/2 inch dice (about 1 3/4 cups)

1

jalapeno, seeds and ribs removed, minced

2

green onions, including green tops, cut into thin slices
3⁄4 cup onion, sweet Walla Walla, diced (I think any sweet onion would work)
1⁄2 cup fresh cilantro leaves, chopped
1⁄2 teaspoon garlic, minced
1 1⁄2 tablespoons fresh lemon juice
1 1⁄2 teaspoons fresh lime juice

1

teaspoon sugar
1⁄2 teaspoon ground coriander
1⁄2 teaspoon ground cumin
1⁄4 teaspoon sea salt or 1⁄4 teaspoon kosher salt
In a medium bowl, combine the tomatoes, jalapeno, green onion, sweet onion, cilantro and garlic.
In a measuring cup, stir together the lemon juice, lime juice, sugar, coriander, cumin and salt.
Stir until the sugar and salt dissolve, and then pour over the tomato mixture.
Stir gently to combine.
Transfer to a serving bowl, cover, and set aside for at least 1 hour to allow the flavors to meld.