Elitetwig's Healthy Ham and Mushroom Mini Pies
less2saw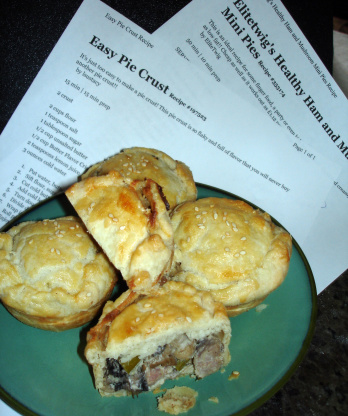 This is an ideal recipe for some finger food, a party or even kids lunch boxes. Light and creamy as well as low fat!! Cheap as well as it works out as £1.12 per portion (4 people).

Made for PAC Spring 2009 with Recipe #197523 crust. The idea really appealed to me, but I found that the quanities weren't quite as indicated (I work in Imperial so that may have contributed). This recipe yielded me 22 mini pies. I also found that the "sauce" instructions were abit vague. I blended the cream cheese with the creme fraiche (which I made because they don't sell it in my town). I made 1/2 the pies as shown in the recipe, then made additional sauce for the balance as I found the first batch to be a bit dry. I would use 1 1/2 times the amount of sauce shown f I make them again. This is a very mushroomy pie that appealed to my DH, but was more than I enjoy. I also found the sauce to be quite rich. I would just use a bechemel sauce in future because I found the sauce overpowering. Overall, this was quite tasty, a bit too much work to not be completely wowed though. I'll post photos later
Preheat oven to 350F / 180C / Gas Mark 4.
In a frying pan, saute the Mushrooms with Olive Oil for 4-5 minutes.
Drain, place in large bowl. Add Ham, Peas, Creme Fraiche Mix and Season.
Roll out the pastry to 0.5cm thick. Using a 8cm x 9cm round cutter, cut 8 out and line an 8-hole muffin tin.
Spoon a teaspoon of mixture into each mould.
With rest of pastry, using a 8cm x 7cm round cutter cut 8 rounds for the tops.
Brush the edges of the pie bases with egg. Place each top on the pie and pinch edges together to seal.
Brush the pie tops with egg and sprinkle with sesame seeds.
Bake for 30-35 minutes.
Serve Hot or Cold.