Elina's Raspberry Chocolate Cake
Redsie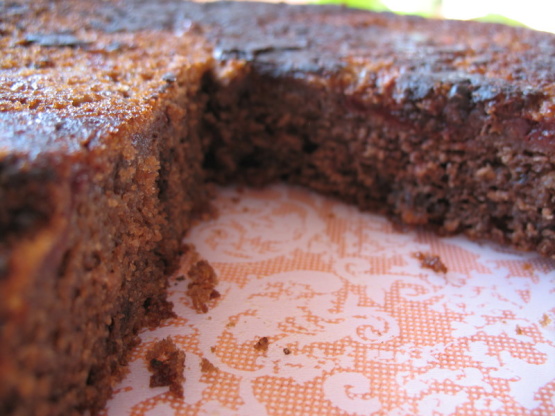 I'm afraid I don't know who Elina is, but I like her cake! I haven't actually made this myself yet, but had it at a birthday party, with dark chocolate frosting and a dollop of whipped cream. Mmm! If you like the combination of fruit and chocolate flavours, give this a try! The cake gets better with time, so bake a day or two before serving and keep refrigerated.

The 5 1/3oz of butter came to 2/3 cup. I also used Splenda in this recipe. It's very moist and rich. Probably best served with a raspberry sauce or whipped topping neither which I had on hand. Plan to serve this during the fall with a warm sauce over it.
Preheat oven to 175éC.
Grease a 22 cm, round cake pan.
Flour with cocoa powder, shaking off excess.
Whip eggs with sugar lightly.
Add melted and cooled butter, milk and raspberry jam, mix well.
In a separate bowl, combine flour, baking powder and cocoa powder.
Add flour mixture and boiling water alternately, mixing just until incorporated.
Turn batter into the prepared pan and bake in the preheated oven for 40-45 minutes.
Serve as-is, or spread some raspberry jam on top, frost with your favourite dark chocolate frosting and decorate with whipped cream.