Pneuma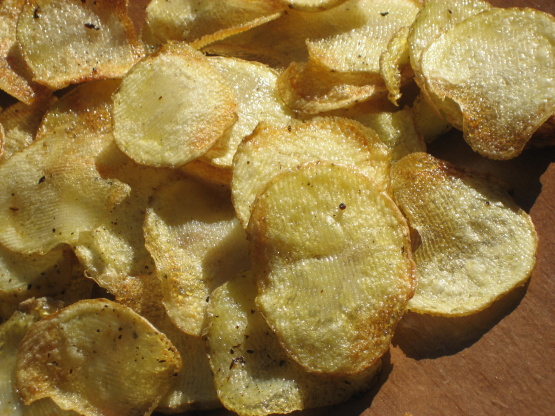 My significant other bought me some new kitchen gadgets and a Wolfgang Puck food processor was one of them - was playing around making scalloped potatoes and one of the potatoes got a little thin cut - and then came the idea homemade potato chips! Enjoy.

Top Review by Pneuma
Mmm.. crunchy home made potato chips! DH kept eating them even while I was still draining them on paper towels and wasn't ready to serve it yet. I was weary about using my mandolin as I cut myself before nor did I use the processor as I didn't feel like looking for that bladed part. Instead, I used the vegetable peeler in slicing them thinly using small potatoes. Works for me! So delicious! Thanks once again for an easy fabulous recipe, V!
6

potatoes (choose ones that are approximately 1 to 1 1/2 inches in diameter)

6

cups canola oil (or peanut oil, to fill 1/2 of a 5 quart pot)

2

tablespoons kosher salt (or as desired)
If you have a food processor set your slicing blade to 1/4" this seemed to be the best slice size, or of course you could use the mandolin, slice your potatoes skins on (well scrubbed of course).
Immediately submerge in a large bowl of water that contains 4 cups of ice and 2 cups of cold water. Allow the potatoes to rest in the cold water for 20 minutes.
On a large towel place each potato slice on the towel and blot dry.
Heat your oil to fry temp just over 320°F and under 370°F gives the best results. Being careful not to over crowd the pot place 6-8 potatoes into the oil and cook to golden brown flipping as you go.
With a slotted spoon or a spider remove your chips from the oil and place on paper towels to drain any excess oils.
Sprinkle with salt - or be adventurous and add anything you think you might like as a flavor.