3 Reviews
I saw this in the Cooking Light section of Southern Living years ago and it is a keeper. I make it several times a year and never get tired of it. It tastes much richer than it is. The only change I make is using reduced fat cream cheese and whole wheat noodles. I've also subbed breadcrumbs for cracker crumbs with no change in taste. It freezes ok, too. I usually package up a few for lunch with noodles and sauce and they reheat well, although I do try to eat them within a couple of weeks.
EXCELLENT! My husband says 10 stars, I agree. This is what I did, I had a pkg of mushrooms that I needed to hurry and use, I had frozen meatballs from xmas, a block of cream cheese that was about to expire and a carton of broth that was also about to expire so this recipe was perfect! so the only thing I did different was to use regular meatballs instead of making homemade chicken ones. What was even more perfect was that I had leftovers for the next night because its just the two of us, so I still had some broth leftover from the carton, I kept adding it while heating it up to make it creamy and I just tossed in some extra meatballs from the package. I just mixed everything together rather than putting it on top of the pasta. I will definitely it make again!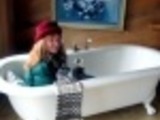 Elegant it is! Italian flavored chicken meatballs in a delicate creamy mushroom sauce with a delicious hint of nutmeg. I used one large clove of garlic for the meatballs and 2 for the sauce. I made the recipe as directed except for subbing Ritz crackers for the Saltines. Next time I would add just a little bit more nutmeg because it gives this sauce an extra layer of "elegance" Thank you another wonderful recipe.

Elegant White Spaghetti and Meatballs