Elegant Strawberries in Flute W/ Ganache Sauce
Prep 10 mins
Cook 10 mins

This is a beautiful soup that can be used as a dessert course or a soup course. It is a special dessert with a romantic presentation. Perfect for wedding and anniversary parties or with Valentine's Day dinner. From www.finedinings.com
Directions
Place the strawberries, ice cream, 1 tablespoon whipping cream and lemon juice in a blender or food processor; blend until smooth; pour into a pitcher with a spout to make it easy for pouring into the glasses (This can be done ahead of time, covered and refrigerated.).
In a heavy medium-size saucepan, bring cream and corn syrup to a simmer; remove from heat; Add chocolate; whisk until melted and smooth; Pour into a small container and refrigerate until ready to use; When ready to use heat slightly to soften the chocolate until it is of the right consistency.
Pour enough chocolate ganache into a flat bowl or plate so that when you place the champagne glasses upside down in the chocolate, it will coat the rims of the glass; allow some of the chocolate to run down the sides. This can be done ahead of time.
Whip the remaining whipping cream with the powdered sugar. Carefully pour the soup into the glasses being careful not to disturb the chocolate on the rim.
Add a dollop of whipped cream and a mint sprig. Place on a plate and garnish with Easter grass and a flower if desired, and serve.
Most Helpful
I served this on a date.It was perfect.It's elegant and beautiful and perfect for any special event.Presentation is every thing with this one.Get creative with it.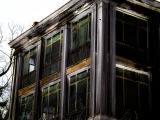 Easy, easy and mighty tasty. I love that the parts are make ahead and it can be thrown together at the last minute. My problem is that the recipe makes enough chocolate ganache for what seems to be 25 extra servings! There is a ton of it left over and I think I will be dipping strawberries into it for the next week. We also thought that some ganache poured into the bottom of the glass and then the strawberry mixture on top of it would be good. Thanks for the great dessert.