Elegant Potatoes Au Gratin
2Bleu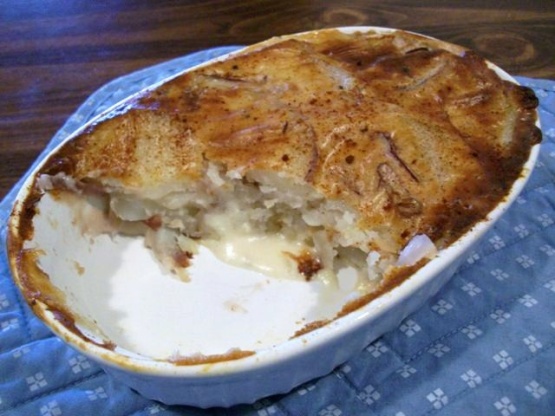 This make ahead comes from a Byerly's cookbook. Refrigerate overnight and pop in the oven in time for dinner. I like to boil the red potatoes 2 days ahead, to eliminate the mushy factor. And notice how it bakes at 350 degrees instead of a higher temperature.

Top Review by livie
I started using this recipe after my husband grandmother showed it to me when we first started dating. It is a wonderful recipe that is very easy to make. I always use American cheese grated instead because that's how my husband likes it. Nice to see some Byerly's recipes on here! Thanks for posting this great old recipe!
7 -8

red potatoes or 2 1⁄4 lbs red potatoes

8

ounces sharp cheddar cheese

1

teaspoon salt

1

pint whipping cream (2 cups)
1⁄4 cup soft breadcrumbs

1

tablespoon butter, softened
Boil potatoes in jackets, cool in refrigerator.
Peel and shred using medium grater.
Shred cheese with same grater.
Butter 2 quart casserole.
Alternate layers of potatoes and cheese in casserole; sprinkle with salt.
Pour cream over potato cheese layers.
Combine crumbs and butter; sprinkle over top.
Refrigerate, covered.
Bake, uncovered, in a 350 degree oven until heated through, 55-65 minutes.