Elegant Green Bean and Mushroom Casserole
Bergy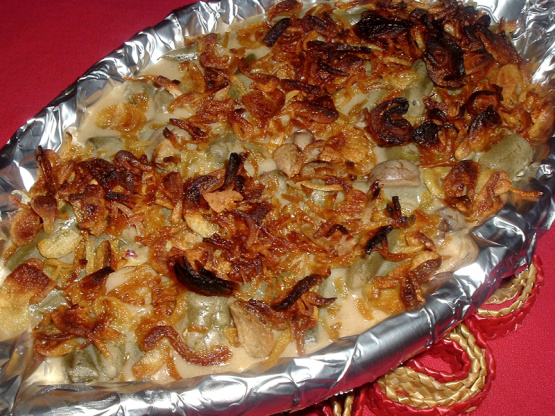 Having a dinner party and need a great vegetable side dish? This is for you! My mom gave me the recipe, and it's always been a hit whenever I serve it.

I give this a 4 star as is, however, you can make it a 5 star and that is just what I did for Christmas with rave reviews. I used fresh whole green beans, fresh portabello mushrooms, and panko breadcrumbs for the topping. Fabulous! This is definitely elegant! No more kiddie green bean casserole for us!
Preheat oven to 375 degrees.
Drain mushrooms and measure liquid, add enough chicken stock to make 1 cup.
Saute onions gently in 3 tbsp butter for 5 minutes.
Blend in flour.
Add reserved mushroom liquid-chicken stock mixture and wine.
Cook, stirring until mixture boils and thickens.
Add cheese, salt, and pepper.
Combine this sauce with the mushrooms and beans.
Turn into a greased casserole dish.
Mix bread crumbs with melted butter.
Sprinkle over vegetables.
Bake at 375 degrees for 25 minutes.