Elegant Baked Fish With Tomato and Lemon
Derf2440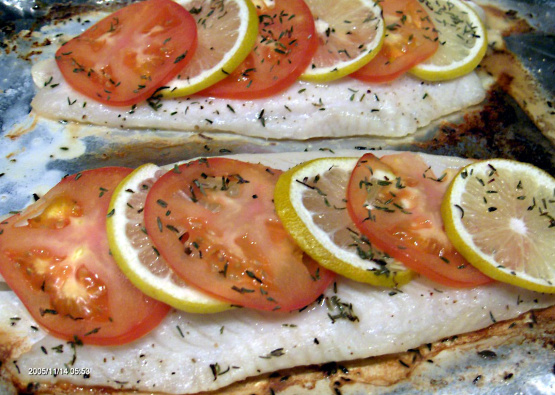 This recipe is healthy, simple, and elegant enough for a party. It originally came from a restaurant in the Napa Valley of California. This cooks fast, so have the rest of your dishes ready or nearly ready by the time you put the fish in the oven. I have used tilapia but any white fish fillets should work.
Preheat oven to 500 degrees.
Slice lemon and tomato into thin slices.
Lay fillets in a single layer in a baking dish.
Bake for 3 to 5 minutes, until they start to draw up and turn white.
Remove from oven.
Alternate slices of lemon and tomato on fish.
Sprinkle with thyme and wine (if using).
Bake 3 to 5 minutes more, or longer, until fish flakes with a fork.