diner524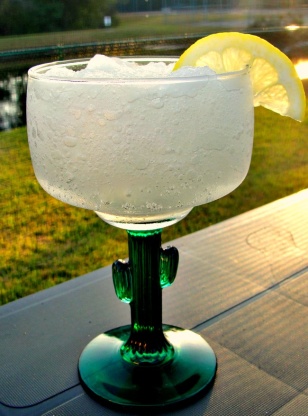 This beastly weather had me searching for something refreshing but not the same old thing - I think this qualifies! From Better Homes and Gardens, June 2011.
Loved this drink!!! I love lemon so this was an easy tag for me. I made this for 1 serving and used fresh squeezed lemon juice, therefore my photo isn't very yellowish other then the lemon slice. I thought I had some frozen mint leaves but found only sage, thyme and chives, so had to omit them and I used Sprite Zero in place of the sparkling water and ginger ale. I think the mint would even make this more refreshing, will plan to make it again when I buy mint leaves again. Thanks so much for sharing the recipe. Made for 123 Tag Game.
Chill four serving glasses in the freezer.
Combine the lemon juice, sugar, mint, sparkling mineral water, ginger ale and ice in a blender and blend slowly until it's thick.
Remove the glasses from the freezer and pour 1/4 cup vodka into each glass.
Top with the frozen lemon mixture.
Add a straw and garnish with mint and lemon slice.