Eleanore Merryman's Pancakes
Prep 15 mins
Cook 15 mins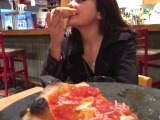 My DH's step-grandmother made these pancakes all throughout his boyhood. The pancakes are more like crepes, light and thin. Add chocolate chips, banana slices, blueberries, or anything you like into the pancake on the griddle.
Directions
Combine all ingredients.
Beat until smooth.
Let rest 10 minutes.
Use very hot griddle.
This mixture will look very wet, not as thick as other pancake mixes.
Reviews
Most Helpful
This is a great and easy pancake batter to whip up in a jiffy. It's in the middle of a crepe and a pancake, but with the texture of pancakes. I served it blintz style with sugar-free apricot jam (warmed) and a dollop of sour cream. Thanks for sharing the recipe. :)