diner524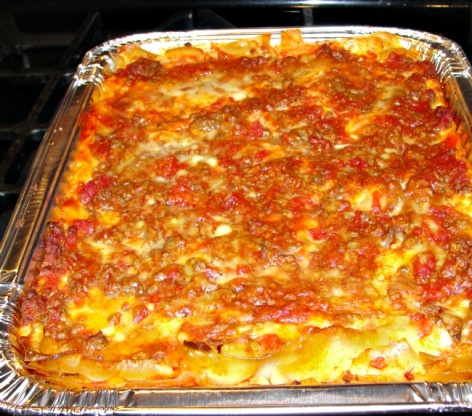 My mom's delicious lasagna recipe.
Wonderful lasagna and very similar to my go to recipe!!! I probably doubled the amount of mozzarella cheese for the recipe, as we like it nice and cheesy. We had our DS and his girlfriend over for dinner and we all loved the lasagna, which I served with homemade rolls and green beans and a devils food cake for dessert, yummo!! Thanks for sharing your recipe. Made for Spring 2013 PAC.
Saute onions and garlic in olive oil.
Add ground beef and cook until brown.
Meanwhile, simmer tomatoes, tomatoe paste, and spices in a medium pot.
Add ground beef when done.
Boil lasagna noodles according to package instructions.
Simmer for 30 minutes.
Combine cottage cheese, eggs and parmesan cheese in a bowl.
Layer lasagna noodles, cheese and sauce. Repeat layers one more time. Top with mozzarella cheese.
Bake at 350 F for 40 minutes.