Elaine's Cheese Pie Royale
PaulaG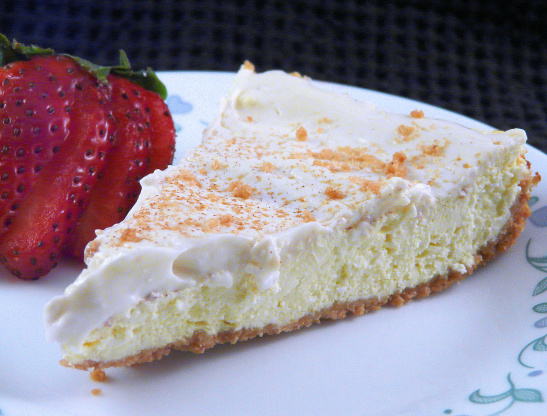 My dear MIL always made this cheese cake for special occasions. According to my FIL, when they were dating (1955), she took him out to see her home town, Chicago, and they stopped for cheese cake at the Marshall Fields on State Street. He enjoyed it immensely, she won his heart, and they were married. When Marshall Fields stopped baking their cheese cake she searched until she found a recipe that came close. This is the result, and it is a family tradition. We call it "The Way-to-a-Texas-Boy's-Heart Cheese Cake." (Cooking time includes chill time).
Top Review by PaulaG
This recipe was made for the *Diabetic Forums Valentine Dessert Makeover*. I made several changes to reduce the carbs, fat, and sugar. The crust was reduced by half with still plenty for the pie. The cream cheese was Neufhatel Cheese and a combination of sugar and Splenda granular was used in the filling. The sour cream was a light sour cream and only half was used in the topping. The pie even with my changes was very rich and creamy. This makes 8 very generous servings. Each slice was garnished with a red, juicy strawberry. Thanks acerast for letting me make-over your recipe.
Have all engredients at room temperature.
Preheat oven to 375°F.
Crust:.
Make graham crackers into crumbs by placing ia plastic bag and crushing with a rolling pin or in a food processor.
Combine cracker crumbs, melted butter and 2 Tablespoons sugar.
Press into a 9-inch springform pan.
Filling:.
In a mixing bowl, beat eggs thoroughly.
Gradually add 1/2 cup sugar.
Add cream cheese a little at a time, beating between each addition until smooth.
Add 1/2 teaspoon vanilla.
Pour filling into crust.
Sprinkle lightly with cinnamon.
Bake for 20 minutes.
Cool.
Topping:.
Increase oven temperature to 400°F.
Combine sour cream, 2 Tablespoons sugar and 1/2 teaspoon vanilla.
Spread topping over baked filling.
Bake for 5 minutes.
Place in refrigerator to cool.
Enjoy!
Refrigerate any leftovers.