Elaichi Gosht - Lamb With Cardamom
Luschka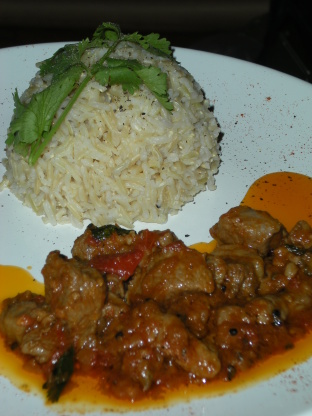 Recipe by Nose
A spicy Western Indian lamb dish, from "Indian Regional Cooking," by Sumana Ray. I haven't tried it - I don't usually eat lamb - but I'm posting it because it sounds like the sort of thing my cardamom-loving sister might like. This seems like a lot of oil, so use your judgment. No number of servings was given; I guessed. It says to serve with rice.

I have primarily only great things to say about this dish! It was really tasty and not at all hard to prepare, considering how good it was. I did double the spices as by the time I got to actually adding the water I thought it needed something extra, so I doubled the pepper, cardamom, ginger and paprika and I'm glad I did. It turned out fantastic. I think the addition of garlic and chilli flakes could also really give it a boost, but that would be down to personal choice. It was ready about an hour or so before we were ready to eat, so the sauce seperated and became a bit oily, but that was absorbed into the basmati rice with no problems and was absolutely lovely. We'll be making this again for sure. Thanks for posting!
Grind the cardamom seeds and peppercorns finely.
In a blender or food processor, puree the tomatoes and ginger.
Heat the oil in a saucepan and fry the onions until golden.
Add the lamb and the ground spices.
Cook, stirring constantly, for 5 minutes.
Add the tomato mixture, paprika, and salt, stir into the meat, and cook for another 2-3 miniutes.
Add the water, bring to a boil, then cover and reduce the heat to very low.
Garnish with the chopped cilantro and serve with rice.