Pam-I-Am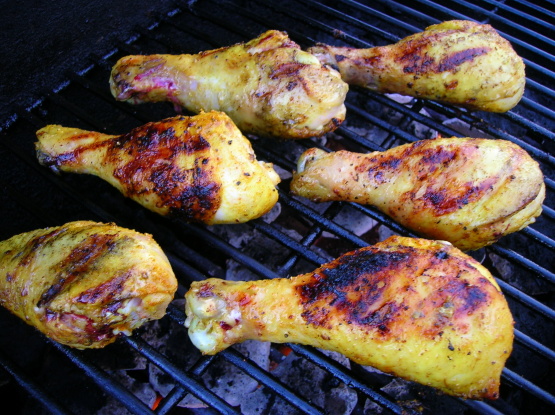 *EDIT* after several reviews general opinion says that it's NOT the real deal. Be that as it may I still think that it makes a fine flavored chicken *EDIT*. Reportedly this is the real thing. Please decide for yourself, I can't say as I have never had chicken from this restaurant. While I don't know if it's "The Real Deal" I do know that it's mighty good chicken.

The company chicken has an orange color not yellow. Tumeric is not used in the recipe, this causes the yellow coloring. Pepper is also not used in the recipe. In fact no additional spices are added except for the liquid marinade! I once owned the company operations manual as part of my restaurant training, but I destroyed it when I left the company, maintaining my confidentiality agreement with the company. But I do wish I had kept the manual. But, the marinade recipe was pre-packaged and shipped to the restaurants, therefore, only R&D has the actual recipe, and it is locked up tight! Many have tried to copy the flavoring with little luck.
Briefly simmer the cut-up chicken in a deep-sided skillet, keeping pieces in single layer without crowding them, until the meat appears milky white and the juices run clear, no longer pink. Allow to cool in the broth, uncovered, while you prepare the basting sauce.
Arrange the chicken pieces skin-side up on broiler pan in single layer and baste with enough of mixture to evenly coat skin side. Turn and baste other side. Turn again to skin side up and broil 6" from the heat, brushing with additional sauce every few minutes until skin is really crispy and golden brown, approximately 5 to 8 minutes for large pieces.
BASTING MIXTURE.
Mix juices, oil, turmeric, garlic salt and pepper. This makes enough to baste nine pieces.