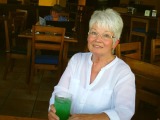 This recipe is from Epicurious. The creator is Cid Prevost, Kansas City, Mo. Everyone I've served this to says it's the best chili they've had.
Directions
Place oil in a large heavy pot over medium heat.
Brown the sirloin in batches.
Remove to a bowl with a slotted spoon.
Add ground beef, chorizo, and onions to the pot to brown.
Break up the ground beef.
Return sirloin to the pot.
Stire in remaining ingredients, except for garnishes.
Bring to a boil.
Reduce heat, simmer for 2 hours.
Before serving discard cinnamon stick bay leaves and jalapenos.
Serve garnished with grated cheese and sour cream.
Most Helpful
This is such a delicious chili! I scraped the seeds out of the jalapenos so the chili wasn't too spicy for a wimp like me.

I made this chili for the first time and enterd it in our work chili contest. I won! People loved the unique flavors. If you make it, people will say it is the most unique chili they have had.
Was going to post this today from when I got it off of FoodTV, Calling all Cooks, the recipe was courtesy of Cid Prevost - If I remember from the show she won awards for this chili. From the original recipe I always drain the fat/juice from the chorizo and hamburger as I found that it was just too greasy with it. Even when I simmer it for a long time I remind my self to dig out the "chunkies" (jalepeno, bay leaves & cinnamon) as I didn't once and the Jalepeno broke apart and my sister got the stem in her bowl (how embarrasing). Don't let be affaid to try this different recipe - it's so worth it!! A great change from "regular" chili!