Bayhill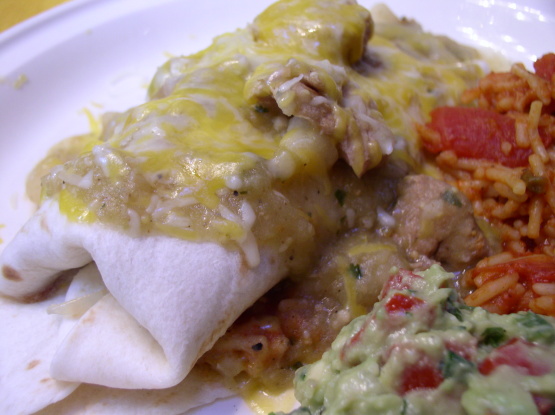 Comfort food at its best.
Delicious!! We really loved this easy, flavorful chile verde. I really loved the idea that I could just pop it in my crockpot and forget about it. I cooked this on "high" for 2 hours and then turned it down to "low" for 4 hours and the pork was "fall-apart" tender. When the chile verde was done cooking, I adjusted the salt and pepper, added some cumin, fresh chopped cilantro, and a pinch or two of sugar to counter the tart from the tomatillos in the salsa verde. I filled flour tortillas with the chile verde, Spanish rice, and 4-cheese blend Mexican cheese. I rolled up the tortillas as burritos and topped them with more chile verde and cheese, and also sour cream and guacamole. These were a big hit with my family. Thank you for sharing this delicious and easy recipe. *Made for 2009 Spring PAC*
Put cubed potatoes in 5 qt crockpot. Season with salt and pepper. Cover potatoes with half of the onion.
Meanwhile in a fry pan, brown pork in oil; remove to crockpot. Season with salt and pepper; add rest of onions and the garlic. Add last 4 ingredients.
Cook in crockpot on Low for 8 hours or on High for 4 hours.
Serve with refried beans and flour tortillas.