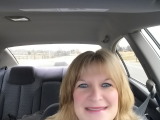 This is a quick and easy recipe. It has lots of room for adding all your favorite spices. ENJOY!
Directions
Brown and drain ground beef.
Put in large crockpot and add but DO NOT drain: Ro-Tel tomatoes, corn, Veg-All, chili with beans and without beans, diced tomatoes and soups.
Turn crockpot to low; may simmer all day if desired.
Most Helpful
The best easiest soup ever. Tastes great with some sour cream and shredded cheese on top.
Good recipe when you don't feel like cooking! Didn't use the ground beef and added extra cans of vegetables: french style green beans and peas and carrots. Have made several times. Added a little bit of Italian seasoning.

A great way to clean out the cans in my pantry. We are moving soon so this recipe was perfect for this. This is more of a chunky soup, like chili. It has a nice kick from the Rotel. It still needs a little more flavor, I can't quite put my finger on what. Maybe some oregano and/or cumin would help. Certainly not salt as canned goods have plenty of that. Thanks for the easy meal!